Enterprises gradually stabilizes production and business
After the Covid-19 epidemic had been well controlled in Vietnam, the production and business of the enterprises flourished again.
In the context of the recent epidemic, most manufacturing industries in Vietnam have suffered from an interrupted supply chain. However, with good disease control, Vietnamese enterprises are much more advantageous than companies in the same industry in foreign countries to compete better. According to the Director of An Long Food Joint Stock Company - Huynh Tuan Phuong Mai, after the epidemic, the company has made more efforts in seeking opportunities, maintaining production and business. In addition, the company has many advantages over other businesses as having an inland waterway port in Long Dinh - Long Cang Industrial Cluster, so it is easy to operate goods up and down and reduce investment costs.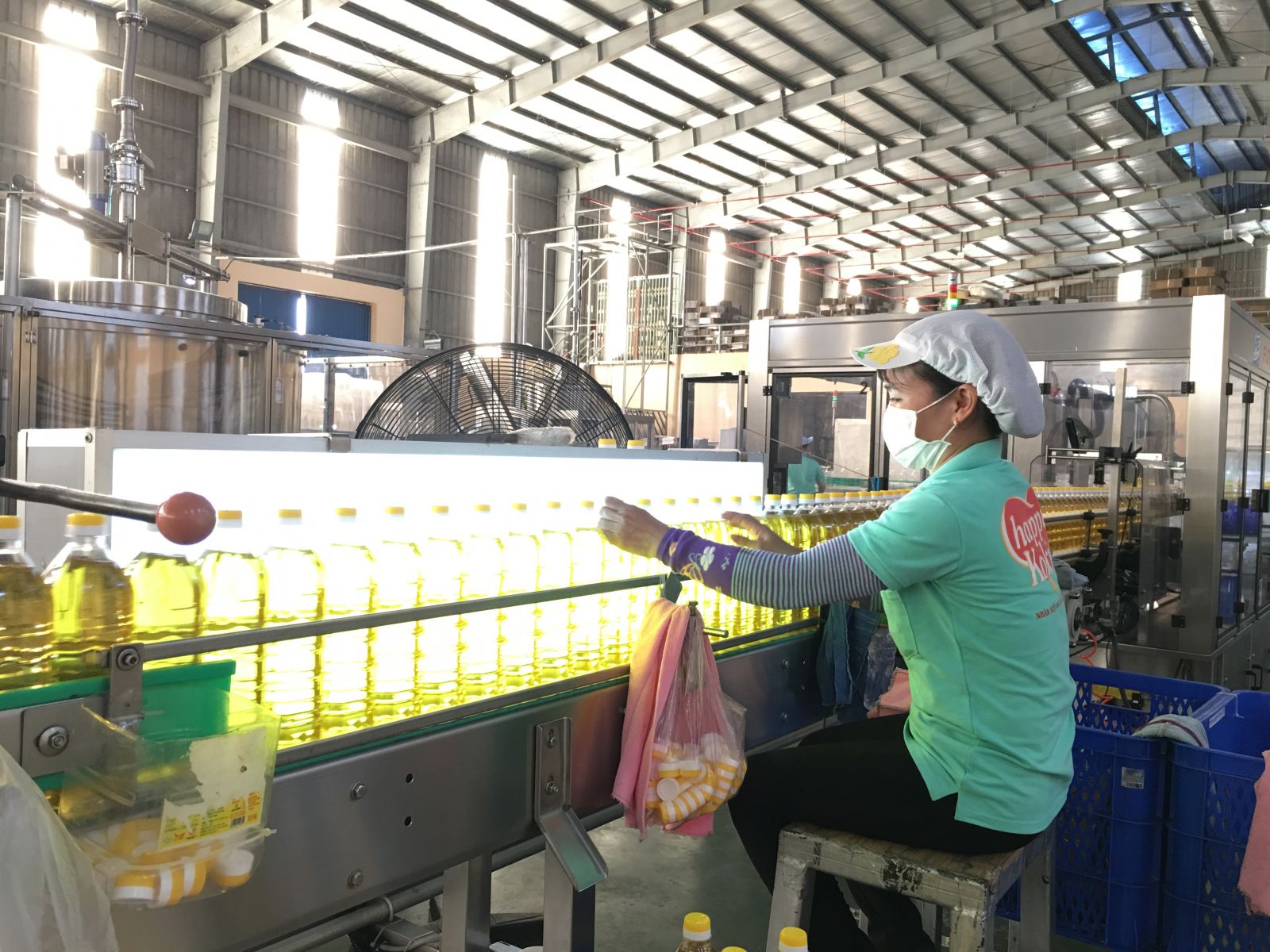 Workers produce at the factory of An Long Company
In 9 months of 2020, Inland Port of An Long Company received 28 ships with a capacity of 3,000 tons per ship. The total import value is over 45 million USD. At the same time, the company also exported 22,000 tons of cooking oil at this port with a value of more than 18 million USD to Cambodia. According to Ms. Huynh Tuan Phuong Mai, the company has applied many new business strategies as well as appropriate sales policies to stimulate the market in order to stabilize the business after the epidemic. Thereby, in 9 months, the total output of product consumption of the company reached 70,000 tons, revenue reached more than 1,300 billion VND. At the same time, the company paid 106 billion VND to the budget, up 15 percent over the same period in 2019. As a result, the company has better conditions to take care of the workers' lives, the employee's income increased by 20 percent compared to 2019, reaching an average of 8.6 million VND/person/month.
According to forecasts, the epidemic outbreak is now back in many countries, this is also a good business opportunity for Vietnamese enterprises to grasp opportunities. To prepare for the next stage, Ms. Huynh Tuan Phuong Mai shared, An Long Company is promoting the marketing channel of goods, training personnel so that high-quality products meet international standards. At the same time, she hopes all levels of authorities will continue to support the company to soon implement the An Nhut Tan Industrial Cluster project in order to expand, increase capacity and invest deeply to create valuable products. increase, better serve consumers and contribute to the economic growth of the province.
By Gia Han – Translated by Duc Tam